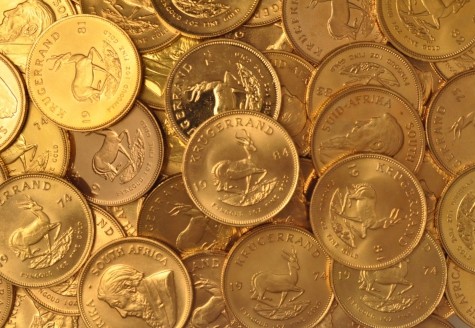 It is named Krugerrand from the South African president 'Paul Kruger "and the national South African currency, the" Rand " and therefore" Kruger + rand ".
Krugerrands have been legal tender in the world since the first coin was minted in July 3, 1967.
It's the first one ounce gold coin issued in the world, the Krugerrand was developed by the South African Chamber of Mines on behalf of the gold mining industry in South Africa and authorized by the South African Reserve Bank.
The Krugerrand became the standard to promote the gold from South Africa and as an investment in international markets.
Originally : pieces in one size !
Krugerrands were minted originally in one size : a full fine ounce equivalent to 31.103 grams of gold.
Made from 22-carat gold or 91.7%, it has a total weight of 33.93 grams.
Since September 1980 Krugerrands became available in three different sizes containing exactly 1/2 ounce, 1/4 ounce and 1/10 ounce of pure gold 999.9 / 1000.
An extremely widespread gold coin
It's the most widely held and traded bullion coin in the world. It remains one of the easiest way for investors worldwide to own gold.
To date, some 48 million ounces of fine gold contained in Krugerrands have been sold worldwide. A total of 1488 tons of fine gold.
This equals more weight in fine gold Krugerrands in circulation globally than all other combined gold.
Although Krugerrands are considered legal, it's important to note that there is no mark of their face value on each side of the room.
The reason is that the focus is on their live links to the current value of their fine gold content of an ounce.
Rand Refinery is the only refinery in the world authorized by the South African Treasury to make the Krugerrand. Since 1998 it has also been appointed to act as agent on behalf of the gold mining industry in South Africa to distribute the coins both locally and internationally.
All Krugerrands are produced from the responsible gold.