Why invest in gold coins?
Orobel recommends its clients to have a part of their gold capital in the form of gold coins.
Gold coins have several advantages: besides the fact that you can acquire a very small amount of gold at a time, they offer you liquidity and a much more flexible management of your gold assets. With gold coins, you can acquire a certain amount of gold, and be able to resell part of that acquisition if you need liquidity.
Gold coins are very different from each other, so they can sometimes be complicated to choose. Generally, we advise our customers to start with the coins known as "safe value" such as the 20 Francs, the English Sovereigns, the Krugerrands, etc.
Ask for free, personalized advice via our online support.
When buying gold coins, you will never make a bad choice… Unless you are doing it for investment purposes. Some coins may have a higher prime than others because they are rarer or demand is higher than supply. The "Safe Value" coins guarantee you the best low premium coins for investment.
Why invest in gold bars?
Gold bars have the particularity of not having a prime. This is why more "experienced" investors go for them: because their price is much more stable, and they are ultimately much more compact than a large package of gold coins.
However, this reality of low premium is only true on ingots that are compatible: either the 100gr, 250gr, 500gr, 1000gr or even the 12500gr ingots.
Indeed, the assayers are now offering small ingots, variants with lower weights than the traditional ingots (the kilo being the reference).
These ingots can be interesting, but only from a certain weight. At Orobel, we recommend that you go for ingots starting at 50 grams.
Why not smaller ingots? Because from an investment point of view, it's expensive! The assayers pass on the cost of production of these ingots to their customers: you. Larger ingots are usually not very expensive to produce (or their cost has already been amortized by a previous investor), so they are more interesting.
This way can be considered a kind of premium, although it is not quite one.
Build your own gold portfolio.
One investor is not the other, and Orobel's experience can help you build a gold portfolio based on your capital and your strategy. It's possible to start with one or more coins, ingots or very often a mix of both combining stability of a part thanks to ingots, and a fractional and liquid part with coins.
No matter your capital, the duration of your investment or your objective: we will always put our experience at your disposal.
Tip: Orobel recommend to invest from 5 to 20% of your capital in physical gold. You are free to buy more or less, but from a safe-haven perspective, this range is the most advisable.
Buy online, and set your own purchase price.
Our online store updates the prices of the products every minute according to the gold price so that you can invest in gold when the moment seems the most convenient for you.
By placing an order in a few clicks, you set your own purchase price.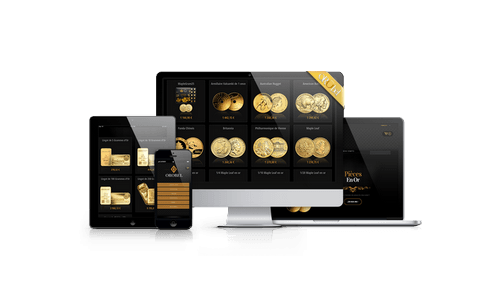 Buy gold at Orobel and enjoy many advantages.
Discover our main parteners