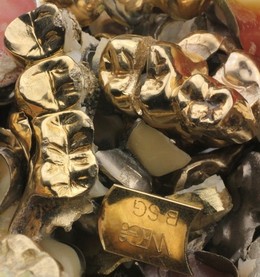 We have a spectrometer that enable us to analyze the dental gold and dental alloys at their drawings and purities of gold and other precious metals they contain, such as platinum, palladium and silver. All these precious metals are purchased at the purchase price of the day.
We analyze and assess the real precious metal titration, no matter if it is only for rich or poor dental gold, inlays, onlays or crowns bridges that you own or more kilo in dental gold form. We buy dental waste as well owned by dental technicians and lab or dentists.
Orobel pay following precious metals prices : gold, silver, platinum and palladium (according to precious metals spot prices in realtime).
Thanks to a gold melting with our induction furnace, teeth, ceramics, plastics are removed and we realize gross bullion with your lot.
Dental gold alloys are quite variable in purity. The ancient work of dental prostheses made after the war until the 70s are rich enough in general between 18 and 22 carat. Those realized in the 80s are generally less wealthy often because of a burst in the gold price. During this time the manufacturers of dental alloys as Metalor Ash + Metals, Degussa sometimes replaced gold with palladium and also began designing dental alloys in non-precious metals.
The dental gold white, as some bridges, teeth and braces named "skeleton" are made of non-precious metals, such as cobalt chromium alloys and chromium nickel that we do not redeem.
You can send your dental gold sends via a declared value, well packaged in a package or bringing us in person, by appointment. In this case, you will immediately receive the money corresponding to the value calculated during the analysis either in cash or by bank transfer.
---
All news and infos about gold on 
[button type="info" target="_blank" link="http://orobel.biz/en/info/news.html" icon="info-sign"]Orobel.biz[/button]