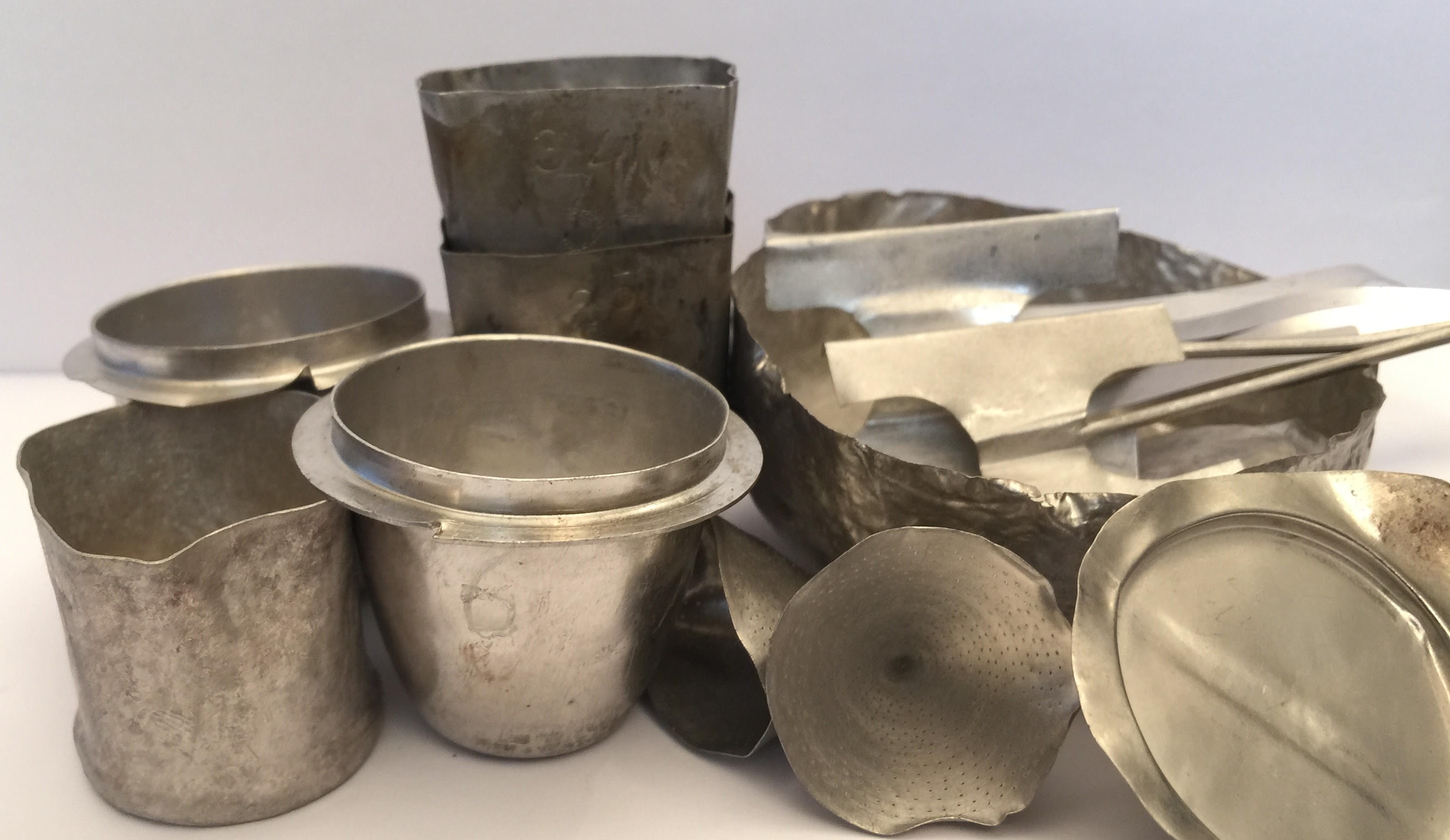 The crucibles and cups in platinum from laboratory are often useful in the chemical analysis. The use of platinum has the advantage of having unique properties for this use. Indeed, platinum can be heated at very high temperatures while remaining chemically inert.
Platinum crucibles, depending of alloys have a melting temperatures between 1700 and 1900 degrees Celsius.
Crucibles and cups in platinum have a very good resistance to acid and salts during the merger and certain solutions.
They can be found in platinum laboratory objects in the form of capsule and platform.
The platinum capsules are subjected to lower temperatures than the crucibles.
They can of cylindrical shapes, hemispherical, conical, etc. …
The nacelles platinum are sometimes used for heating solutions that are extreme corrosive fluorine.
Most of the platinum group metals such as palladium, rhodium and iridium alloy can was platinum in these objects in order to improve their mechanical strength, thermal and wear.
Found crucibles either pure platinum, but sometimes by 90 to 95% platinum and 5 to 10% rhodium
The rhodium content can go up to 20%.
The mechanical, thermal resistance and corrosion resistance becomes larger with increasing the rhodium content. An advantage of the platinum-rhodium alloys is that only a minimal weight loss occurs even in an oxidizing atmosphere.
Crucibles of gooch, Neubauer are made of platinum iridium alloy with an iridium content ranging from 3 to 20%.
The mechanical strength, heat resistance and corrosion resistance becomes larger with the increase of the iridium content. Alloys Platinum Iridium suffer from the increase in weight loss in an oxidizing atmosphere.
Some crucibles can made in alloys 95% platinum and 5% gold.
The gold content reduces the wetting by molten glass so that the glass can be easily removed after solidification without leaving residues. The mechanical strength is also increased and a reduced tendency to recrystallization
These properties predetermine the 95/5 Pt as a material for an apparatus for preparing samples for fluorescence X-ray analysis (XRF) or ICP.
 We buy and recycle all those objects of platinum laboratory regardless of the amount.
For industry and the jewelry manufacturers, we sell platinum unwrought in sealed bags accompanied by ICP analysis or bullion, do not hesitate to contact us
Les creusets et coupelles de laboratoire en platine sont souvent utiles dans les analyses chimiques. L'utilisation du platine a l'avantage d'avoir des propriétés unique pour cet usage. En effet, la platine peut être chauffée à très haute température tout en restant chimiquement inerte.
Les creusets en platine selon les alliages ont des températures de fusion entre  1700 et 1900 degré Celsius.
Les creusets et coupelles en platine ont une très bonne résistance aux acide et sels lors de la fusion et de certaines dissolutions.
On peut trouver les objets de laboratoire en platine sous la forme de capsule et de nacelle.
Les capsules en platine sont soumises à des températures moins élevées que les creusets.
Elles peuvent de formes cylindriques, hémisphériques, coniques, etc.…
Les nacelles en platine sont parfois utilisées pour le chauffage des solutions au fluor qui sont extrêmes corrosives.
La plupart des métaux du groupe platine comme le palladium, le rhodium et l'iridium peuvent été alliés au platine dans ces objets afin d'amélioré leur résistance mécanique, thermique et d'usure.
On trouve des creusets soit en platine pur, mais parfois en 90 à 95 % platine  et 5 à 10 % rhodium
La teneur en rhodium peut allés jusque 20 %.
La résistance mécanique, thermique et résistance à la corrosion devient plus grande avec l'augmentation de la teneur en rhodium. Un avantage des alliages platine-rhodium est que seul un minimum de perte de poids se produit même en atmosphère oxydante.
Les creusets de gooch, Neubauer  sont faits d'alliages  platine iridium avec une teneur en iridium variant de 3 à 20 %. 
La résistance mécanique, résistance thermique et à la corrosion devient plus grande avec l'augmentation de la teneur en iridium.  Les Alliages Platine Iridium souffrent de l'augmentation de la perte de poids en atmosphère oxydante.
Certains creusets peuvent fait dans des alliages 95 % platine et 5 % d'or.
La teneur en or permet de réduire le mouillage par le verre fondu de sorte que le verre peut être facilement retiré après solidification sans laisser de résidus. La résistance mécanique est également augmentée et la tendance à la recristallisation réduite
Ces propriétés prédestinent Pt Au 95/5 en tant que matériau pour un appareil pour la préparation des échantillons pour l'analyse par fluorescence aux rayons X (XRF) Ou ICP.
 Nous rachetons et recyclons tous ces objets de la laboratoire en platine peut importe la quantité. 
Pour l'industrie et le fabricants de bijoux, nous vendons le platine sous forme brute en sachets scelles accompagnés de l'analyse ICP ou en lingots, n'hésitez pas a nous contactez  
Contactez nous pour obtenir un offre.