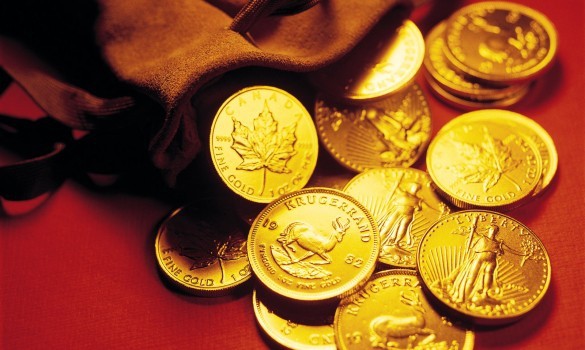 When one wants to invest in gold, one wonders what form should you buy gold. Gold coins, gold jewelry, gold bars, gold certificates, ETFs ?
Gold certificates
---
The existence of gold certificates in the seventeenth century. They are evidence of possession of a definite quantity of gold. Offered by banks as a financial product, gold certificates thus similar to shares whose value is indexed to the price of gold.
The gold certificates are attractive products that they do not require the metal acquisition, and thus do not pose the problem of conservation (purchase or rental of a safe). Accessible and cheap, they are a reliable indicator of the property on gold. In the future, your bank might not necessarily be able to give you your gold in physical form.
ETFs indexed on gold.
---
ETFs (Exchange Traded Fund) are exchange-traded funds, which imitates the movements of a benchmark. Some like SPDR Gold Trust reproduce the movements of the price of gold.
We strongly discourage this type of product for those wishing to invest in gold to form a security savings. ETFs on gold reproduce the movements of the stock market price of gold and thus very volatile.
In addition, a significant portion of physical gold that are supposed to sell these ETFs is not real. The managers of ETFs are suspected of selling at a loss for the sole purpose of manipulating the price of gold. Investment in physical gold in the form of paper contract is not 100% reliable and remains risky.
Buy only physical gold for investment.
---

According to Directive 77/388 / EEC defined by the European Union, investment gold can exist in three forms.
A gold bar (gold bullion) or a plate of a purity equal to or greater than 995 thousandths, more than 1 gram.
A gold coin minted after 1800, of a purity equal to or greater than 900 thousandths, have been legal tender in the country and sold at a price not exceeding 80% the value of gold content in the room.
The physical gold held by individuals, represented by securities (at least 995 thousandths) future or forward contracts and certificates.
Any product found to be of investment gold enjoys the same tax advantage: no VAT on purchases.
Read also : taxation of gold and silver in European Union's countries.
But the question people most often arise is :
In which form buy physical gold ? Gold coins ? Gold bars / bullions ? Gold jewels ?
Gold jewels, the indian tradition.
---
In India, tradition and culture is that gold jewelry is a symbol of wealth and social recognition. India consumes a lot of gold to made covenants, necklaces, pendants, earrings and other gold bracelets. This country alone consumes 60 tons during the month of the festive season of Diwali.
More than half of the 170,000 tons of gold exploited by mankind was cast jewelry. The jewelery sector constitutes over 50% of annual gold demand.
Owning gold as jewelry risky turns out today, the risk of theft remain high for jewelry because they are easy to sell. Moreover, in case of sale, they are worth their weight in gold and you will pay, and some countries like France charge transfer tax amounting to 10.5%.
Read also : gold demand trend on jewelry on 2nd quarter 2015.
Gold bar, the outstanding value.
---

Click on the icon to display gold bars and bullions available on sale.
To meet investor demand, the gold bars were declined under several different sizes (gold bullion 5g, 10g, 20g, 50g, 100g, 250g, 500g, 1kg and 12,5kg).
The gold bullion is a secure way to invest in gold. They are easily identifiable because they are sold with a serial number, which in particular in certain countries to benefit from a total exemption from the tax on capital gains, after 22 years of detention.
All gold bars and bullions sold by Orobel are sold packed and sealed, with a certificate of authenticity.
Gold bullion, however, have some disadvantages:
Difficulty of storage for large gold bars (If not in a safe).
A gold bar is tricky to transport, not to be sent by post to bullion over 100g (no insurance beyond 5000 euros sent value), existence of fake ingots, etc.
Lack of Liquidity and the resale price (impossible to sell a more expensive ingot its gold value).




Mini-bars (10g, 50g, 100g, 500g) are more affordable, but constraints are the same as those related to the ingot. And they represent a less attractive investment than 1kg bullion because the premium paid on the purchase of these products may not meet their resale.
This is due to the fact that professionals are buying gold to the weight of this kind of anonymous products without intrinsic added value.

Gold coins, an other way to invest in gold.
---

Click

 here to display all gold coins available on sale.
The investment gold coins are probably the best investment to build their savings in gold:
Gold coins are exonerated from VAT in the countries of the European Union.
Highly liquid market, so easy to sell and buy.
Backed by a premium, multiplying their value in times of crisis in particular. Which is not the case for gold bullion, which they keep their same listing.
Thanks to the premium system, the price of a gold coin may exceed the value of gold it contains. It represents the difference between the price of gold the piece contains, and the negotiated price of the room. When the premium is close to zero, it means that its price is near its weight in gold.
The French like Napoleon rely on old gold coins as insurance, especially in crises where they are enjoying increasing popularity. In 2008, the premium on the Napoleon wrasse was close to zero, the parts are then sold at price of gold they contain.
Read also : zoom on the 20 francs Napoleon III.
In late 2008, the 20 franc Napoleons see their premiums go from 0% to 50% in two days, the Half Napoleons from 15% to 90%. The coins minted little as 20 francs Latin Union 20F, with identical characteristics to the 20 franc Napoleons see their premiums increase when stagnate and become Napoleons found. This premium difference is due to the fact that the Napoleons, reassuring in times of crisis, are highly demanded by investors. Then the demand for gold turns to the parts with the same characteristics.
We advise to our private customers and investors to favour physical gold to invest in gold and divide with gold bullions and gold coins.
You want to invest in gold ? Take the advantage of a fast and fiable delivery by ordering in our webshop :

---
All news and infos about gold on 
[button type="info" target="_self" link="http://orobel.biz/en/info/news.html" icon="info-sign"]Orobel.biz[/button]