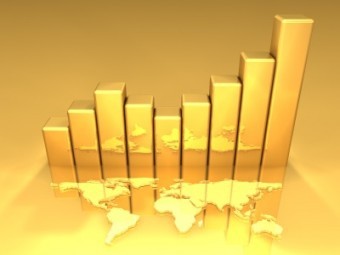 Gold is resulting from an international trading and so has its own course. If we observe the history of the price of gold since 1970, we actually observe that gold has an increasing value on the Long Term.
Understand the gold price in history
---
Observing what happened in the past, we can see that the price of gold has experienced periods of higher and lower. A period of rising on gold price follows a period of decline.
Several major events have impact on the gold price, among them we can list the main ones:
August 1971: US President Nixon decided not to index the dollars on a quantity of gold: it is the end of the gold standard. Gold is set at $ 35 an ounce.
August 1972: The United States devalues ​​the dollar to 38 dollars an ounce of gold.
January 1980: The sharp rise in oil prices, Soviet intervention in Afghanistan and the Iranian revolution profoundly impact the price of gold, making reaching $ 850 per ounce.
August 1999: the markets are worried about central banks that decide to reduce their gold reserves. In line, the mining company are selling their gold stocks to protect against falling prices on the markets.
March 14, 2008: For the first time in the market of futures, gold contracts are traded over $ 1,000 an ounce.
Read also our detailed article : L'histoire du cours de l'or.
The graph below relates the facts mentioned above.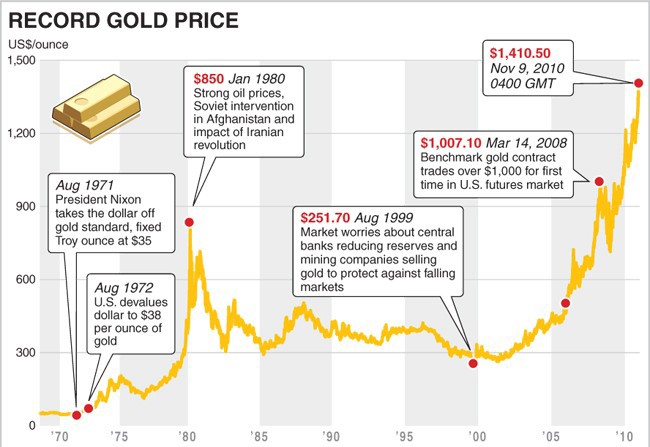 Read also : Understand how the gold price works.
The gold price nowadays
---
After a historic peak in 2011-2012, the price of gold was quickly folded to lower levels, driven by a tightening of the policy of the American Federal Reserve.
However, gold prices should reach new high levels. As testified the previous historical chart, the price of gold is very influenced by world historical events. This year's attempt to negotiate with Greece have profoundly influenced the price of gold. The situation between Greece and its creditors is not finished, so it is likely hard to see appear in the future a further increase in the price of gold.
« If you do not trust gold, you admit that it makes sense to cut down a tree worth about three or four thousand dollars, turn it into pulp and paper, putting some ink on it and call the whole Billion Dollars. « – Kenneth J. Gerbino
---
All news and infos about gold on 
[button type= »info » target= »_self » link= »http://orobel.biz/en/info/news.html » icon= »info-sign »]Orobel.biz[/button]