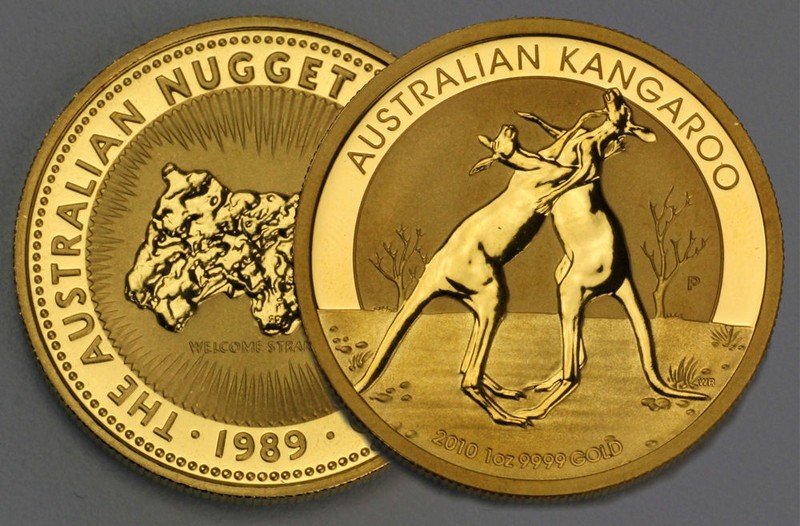 Such as the Chinese Panda gold coin, the Australian Nugget gold coin has seen its design profoundly evolve over the years. It is among the parts of a fine ounce and the most pure in the world.
History of the design of the 1 oz gold Australian Kangaroo.
---
Gold nuggets own more or less pure priority that could be removed from streams and rivers or directly be sorted sand. However, this is not the first discovery of gold known in Australia was chosen because it can not be designated Nugget because of its huge mass. In February 1851, a man named H. Hargraves found a giant gold quartz block having a gold weight of about 40 kg.
The first designs on the coins of one ounce Australian Nugget are the gold nuggets.
Australian Nugget gold coin – 1987
---
In 1986, « Royal Perth Mint » issued a series of gold coins that was supposed to remember the beginning of the gold rush in Australia.
As a reason we chose four gold nuggets – gold nuggets – Famous for each variant (1 oz, 1/2 oz, 1/4 oz, 1/10 oz) of gold coin.
1 oz

Gold nugget 

« Welcome Stranger« 

The Welcome Stranger nugget was found in 1869 by John Deason and Richard Oates at a location close to the surface in the roots of a tree located near a river. It weighed 72 kg and contours were strangely similar to the contours of the Australian continent.
 

1/2 oz

gold nugget 

« Hand of Faith » 

The gold nugget Hand of Faith was found by Kevin Hillier using a metal detector in September 1980. It was a nugget that was 47 cm high and 20 cm x 9 cm wide. Later, the seed was sold to the « Golden Nugget » casino in Las Vegas.
 

1/4 oz

gold nugget 

« Golden Eagle » 

The Golden Eagle gold nugget was found by Tim Larcombe, aged 16, in January 1931. She weighed a weight of 35 kg.
1/10 oz

gold nugget 

« Little Hero » 

The Little Hero gold nugget was found in 1980 in the Coongan River and weighs 10.5 kg.
1986 series consists of parts than as a « PROOF » (Proof Quality).
Australian Nugget gold coin – 1987 serie
---
In 1987, we started to issue coins with the motifs of the year 1986 as « Uncirculated ».
The edition of 1987 as part of « PROOF » features new patterns.
 

1 oz

gold nugget 

« Poseidon« 

 
 

1/2 oz

gold nugget 

« Bobby Dazzler » 

 

 

1/4 oz

gold nugget 

« Father's Day » 
 

1/10 oz

gold nugget 

« Golden Aussie » 
Australian Nugget gold coin – 1988 serie.
---
The series of 1988 as « PROOF » shows again other nuggets : 
 

1 oz

gold nugget 

« Pride of Australia« 

 
1/2 oz

gold nugget 

« Welcome » 

 
1/4 oz

gold nugget 

« Ruby Well » 
 

1/10 oz

gold nugget 

« Jubilee » 
---
All news and infos about gold on 
[button type= »info » target= »_self » link= »http://orobel.biz/en/info/news.html » icon= »info-sign »]Orobel.biz[/button]