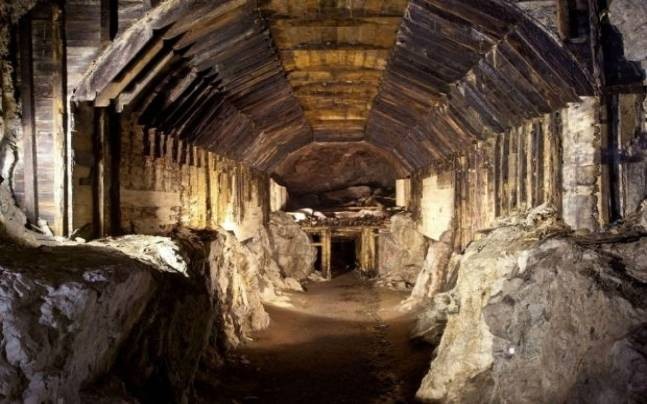 A Nazi treasure he will be discovered in the district of Walbrzych, Poland? Two men, a German and a Pole, have located a train filled with gold and precious stones and valuable paintings. This train, from an old legend, was abandoned near the city of Wroclaw, by the Nazis at the end of the Second World War.
Treasure hunters have used a law firm who contacted the local authorities. They claim 10% of the value of their discovery. « Lawyers, the army, the police and firefighters caregivers. The area has never been explored so far and we do not know what we might find there » said a Reuters official Walbrzych District. According to Radio Wroclaw, the convoy measured 150 meters and was carrying weapons and « industrial equipment » of the German army. He allegedly disappeared in May 1945, when the defeat of the Nazis against the Red Army.
This photo was taken in 1945 by H. Byron Rollins / AP. It shows us the discovery of 100 tons of gold ingots were found in a salt mine near Merkers, in the South East of Germany. 300 tonnes would be on the train covered in this article.
An old legend
---
The announcement of the existence of train « legendary » feeds much research in the area, some of which are based on historical elements. Under German control during the Second World War, the city of Wroclaw, located in south-western Poland. The BBC says that between 1943 and 1945 the Nazis conscripted forced laborers and prisoners of war to build nine kilometers of tunnels under the castle of Ksiaz in Silesia. It never completed project, called « Riese » (« Giant »), was intended, according to documents, to become one of the headquarters of Hitler.
A minor area of ​​Walbrzych, Tadeusz Slowikowski, quoted by Gazeta Wrowclavska says he spent more than fifty years to look this Nazi train, without success. Other explorers rather locate the convoy in Piechowice. « Many people have already tried this train, damaging the line in passing, but nothing was ever found. But the legend stirs the imagination « says a local journalist Joana Lamparska, cited by Radio RMF.
It is in any case echoes other historical episodes, including sending 24 cars from Budapest to Germany, carrying gold, silver and valuables stolen from Hungarian Jews. This train, whose cargo was estimated at $ 200 million, was intercepted by US soldiers, who used the way.
---
All news and infos about gold on 
[button type= »info » target= »_self » link= »http://orobel.biz/en/info/news.html » icon= »info-sign »]Orobel.biz[/button]